Semi Finals of the Saudi ORIX Cricket Tournament completed
Semi Finals of the Saudi ORIX Cricket Tournament were played recently in Riyadh. This tournament is being organized by Riyadh Cricket Association (RCA).
In Al Kharj Cricket Zone, Lahore Lions beat Lahore Badshah by a huge margin of 289 runs. Winning the toss and batting first, Lahore Lions piled up 367/8 in 40 overs. Salman Butt scored 111, Omar Zafar 91, Mansoor 59, Sarfraz 43 and Muzaffar 22. Yassir Maqbool took 3 wickets while Tariq, Waseem and Irfan got 1 wicket each. Chasing a huge target, Lahore Badshah was all out for a paltry 78. Adnan remained not out on 27. Waqas and Ali Rizwan got 2 wickets each while Mansoor and Nawaz picked 1 each. Salman Butt was declared Man of the Match. In the second Semi Final, Pak Shaheen trounced KFSH Blues by 8 wickets. Batting first KFSH Blues was all out for 244 in 37.1 overs. KFSH Blues started well with openers Nadeem Babar and Nasir Abbasi, but after the fall of the openers lost wickets at regular intervals. Saqib Abbasi scored 39, Ayaz 36, Usman 29, Nadeem Babar 27, Abdul Malik 21 and Nasir Abbasi 20. Abdul Wahid and Ibrar Ul Haq bowled excellently and took 3 and 2 wickets respectively. Iftikhar Khan got 2 important wickets. Abdulaziz and Abdulsalam also picked 1 wicket each. In reply, Pak Shaheen started with a bang with Abdul Wahid and Ibrar Ul Haq hitting the ball all around the ground. Abdul Wahid scored 95 of 30 balls and Ibrar made 76 of 40 balls. After the fall of Wahid and Ibrar, Usman and Wahab took Pak Shaheen to victory and remained unbeaten on 51 and 17 runs respectively. Nadeem Babar was the only successful bowler for KFSH Blues who took 2 wickets. Abdul Wahid was declared Man of the Match.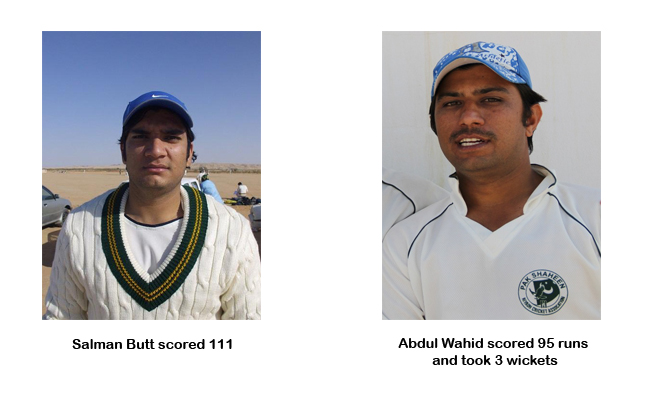 In Huraymala Cricket Zone, Attieh Steels beat Stallions in the first semi final. In the second semi final, Thales defeated Saudi Jaguar by 5 wickets. Batting first Saudi Jaguar was bundled out for 153. Shaukat remained not out on 56. Zahiduddin took 3 wickets while Azeez got 2. Saad, Asim, Atif, Amjad and Imran got 1 wicket each. Thales reached the target in 18.1 overs. Zahiduddin performed well with the bat also and scored 65. Asim also played well and made 31. Zahiduddin was declared Man of the Match.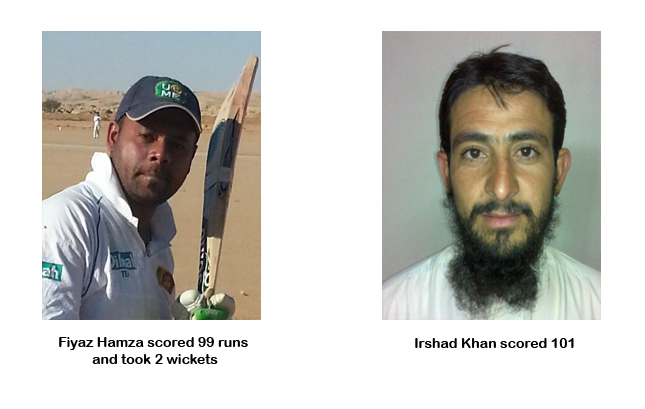 In Riyadh Cricket Zone, Serendib beat Lahore Badshah Green by 4 wickets. Lahore Badshah Green batted first and scored 187 in 20 overs. For Serendib, Saman and Fiyaz Hamza took 2 wickets each and Chanaka got 1. Serendib achieved the target in 19.2 overs. Fiyaz Hamza played a splendid innings and remained unbeaten on 99. Ishan made 22 and Fazil 17. Fiyaz Hamza was named Man of the Match. . In the second Semi Final of the Riyadh Zone, Pak Force beat Punjab Stars by 4 runs in a closely contested match. Batting first Pak Force scored 220 in 20 overs. Imran Faisal scored 52, Naveed Arshi 37, Owais 31, Sultan 28 and Hameed 24. Waseem took 3 wickets for Punjab Stars. Punjab Stars batted well, but in the end fell short of target by only 4 runs. Irshad Khan played a marvellous innings of 101. Imran Faisal took 4 wickets, Azaz Khan 3 and Owais 2. Imran Faisal was declared Man of the Match.

Tagged

: Orix | RCA | Saudi Orix