Alhamrani FUCHS to sponsor RCA Tournament
Alhamrani FUCHS is sponsoring the Cricket tournament organized by Riyadh Cricket Association (RCA). 51 teams are participating in the new RCA tournament named as FUCHS Cup 2013. The teams are divided into four zones; Riyadh Cricket Zone, Al Kharj Cricket Zone, Huraymala Cricket Zone and Al Qassim Cricket Zone. First round matches of the FUCHS Cup 2013 were played recently.
In Riyadh Cricket Zone, Grundfos beat Kashmir Press by 5 wickets. Batting first, Kashmir Press scored 175 in 20 overs. Fahim picked 2 wickets for Grundfos while Fatik and Ahmed got 1 wicket each. Grundfos chased the target in 19.3 overs. Yasir was the highest scorer with 52 runs. Faris remained unbeaten on 40. Seham beat Kashmir XI by 9 wickets. Kashmir XI scored 147 in the stipulated 20 overs. Seham achieved the target in 17.2 overs for the loss of only 1 wicket. Nasir scored 61 and Gulzar 54. TCS Riyadh beat Imran XI by 60 runs. Batting first TCS Riyadh scored 188 in 20 overs. Aashiq scored 62 and Kamish 50. In reply Imran XI was all out for 128. Royal Strikers beat Sulaiman XI by 9 runs. Batting first Royal Strikers scored 205/7 in 20 overs. Jijin scored 61 while Musthafa and Subair contributed 31 each. Usman took 3 wickets for Sulaiman XI. Fakhar and Syed Azhar also got 2 wickets each. Sulaiman XI scored 196 in reply. Syed Azhar played brilliantly and remained unbeaten on 110, but could not save his team from defeat. Jijin and Dileep took 2 wickets each.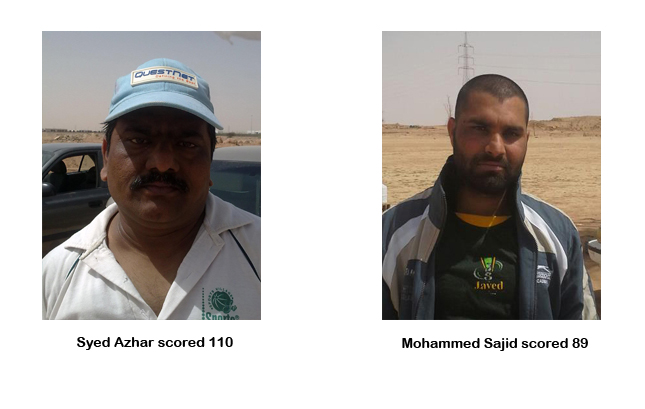 In Huraymala Cricket Zone, Combined XI beat Pak Force by 23 runs. Combined XI scored 185/8 in 20 overs. Kashif scored 56 and Anees 48. Imran and Yassir took 3 wickets each for Pak Force. Pak Force was all out for 163 in 18.1 overs. Arshi scored 29, Murad 27 and Faisal 25. Ahmed bowled well and took 3 wickets. Ameen and Shoaib also got 2 wickets each. Thales beat Riyadh Fighters by 3 wickets. Riyadh Fighters scored 152 in 20 overs. Thales achieved the target in 18.2 overs. Saad made 45 and Amjad remained unbeaten on 26. FUCHS beat RAC. Batting first RAC was all out for 133 in stipulated 18 overs. Tayyab was the top scorer with 36 runs. FUCHS achieved the target and won the match. KFSH Knight Riders beat AB Contracting by 6 wickets. AB Contracting batted first and scored 205. Raza scored 42, Waqar 28 and Yasir 23. Maqbool and Ismail took 2 wickets each. KFSH Knight Riders achieved the target in 18.1 overs. Zaheer made 71 and Bilal 30. Janaid took 2 wickets.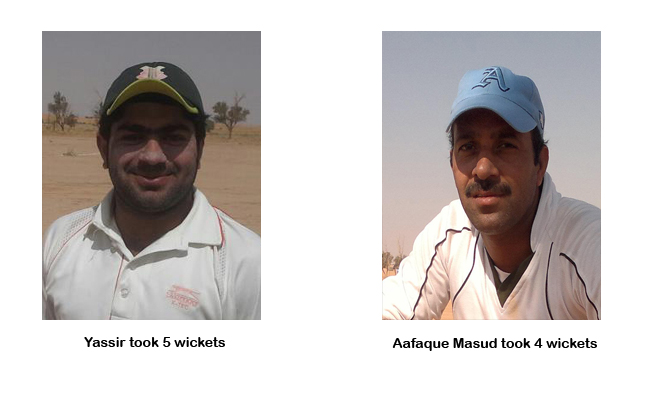 In Al Qassim Cricket Zone, Chowdhary XI beat Bismillah XI by 50 runs. Batting First, Chowdhary XI scored 197/3 in 20 overs. Mohammed Sajid made 89 and Tabassum 43. In reply, Bismillah XI was all out for 155. Jamshed scored 40. Pak XI beat Paradise XI by 15 runs. Pak XI batted first and scored 178/5 in 20 overs. Abdulrahman scored 58 and Waqar 49. Zubair took 3 wickets and Obaid 2. Paradise XI scored 162 in reply. Kashif made 33 and Razzaq 22. Aafaque Masud was the pick of the bowlers and took 4 wickets while Rauf and Waqar picked 2 wickets each. Sialkot Stallions beat Friends XI by 4 wickets. Friends XI batted first and scored 114. Mubashir and Ahmed Raza took 2 wickets each. Sialkot Stallions achieved the target thanks to a well made 47 by Mubashir. Pak Dawliya beat Al Saqar by 42 runs. Batting first, Pak Dawliya scored 194. Imran made 67 and Arshad 27. Santosh of Al Saqar got 4 wickets.

Tagged

: FUCHS | FUCHS CRICKET